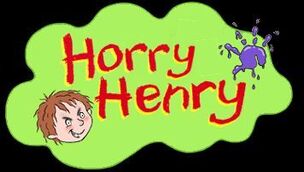 Horry Henry was a TV show that used to air on ITV, Cartoon Network, and Teletoon. Unlike Horrid Henry, the show was marketed to be more ruder and cruder than the other, and most characters had different names (Perfect Peter being named 'Perplexed Peter' for example) and places were renamed. Series 1 aired in 2014, then was followed by Series 2 in 2015. Series 3 also aired in 2016 and a fourth series is rumoured to be released in 2017.
This show was infamous in the USA, France, Germany, Spain and Canada, because the content was deemed to be so "destructive" for it's audience that it had to be withdrawn from airing. It currently only airs in the UK, Japan, Italy and a few more countries.
Horry Henry has so far, three awards:
Bestest show ever - Kidz choice rewardz 2014
Best. Show. Ever. - CBG world 2014
A groundbreaking, more mature approach to the already famous Horrid Henry series that relied on content the other show should of have. - Golden Globe Awards 2015
Reception/Controversy
Edit
This show had a 7.9 out of ten rating on TV.com, most people said that it's very funny and 'okay'. On one review, it says "It's just like Horrid Henry but with evilness!". However, TV.com had to remove the show due to reasons unknown. It has also managed to get a 6.8 rating on IMDB before it's page got removed (for same reasons to the TV.com example).
However, despite success, the show nearly got cancelled by mothers complaining to the creators for its violent content.
When this show got aired in France, it only had 7.1K viewers on the first episode, due to a lack of interest.
It was going to be aired in 2011, but due to similarities to that other show, it got put on hold until 2014, to avoid suspicions arousing.
A trailer was shown in late 2012. Due to an initial lack of interest, it is now hard to find, as it was removed from ITV's website within a week.
Many episodes of Horry Henry are based on episodes of Horrid Henry, and were made by the same company of the latter.
In Japan, Horry Henry had a different opening tune, so that the TV series could appeal to Japanese viewers. However, it still failed to catch the attention of Japanese people.
The show is given a '12' rating from the BBFC, despite some episodes involving violent behaviour, mild language, and irresponsible acts.